USRDS Weighs in on the Vascular Access
(Gleaned from the 2018 USRDS Annual Data Report: Volume II: Chapter 3)
Clinical practice guidelines from the National Kidney Foundation in 2006 recommend an autogenous arteriovenous (AV) fistula as the preferred vascular access for hemodialysis.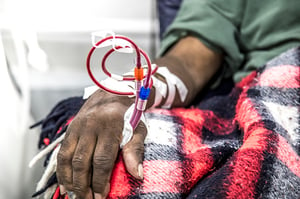 Central venous catheters are associated with higher risks of death, infection and cardiovascular events than other types of vascular access. Patients with a usable AV fistula exhibit the lowest risks for these events.
The international Dialysis Outcomes and Practice Patterns Study (DOPPS) highlighted the fact that, with respect to vascular access, dialysis practices in the United States lag behind other industrialized countries. In a large part, such international comparisons served as an impetus for implementation of the Fistula First Breakthrough Initiative (FFBI) by the Centers for Medicare & Medicaid (CMS). Over the next decade, a gradual but steady increase in AV fistula placement efforts followed in the United States, such that the proportion of prevalent HD patients using an AV fistula rose from 32 percent in 2003 to 63 percent by 2014.
A robust debate continues as to whether an AV fistula should remain the access of first choice for every dialysis patient. Recent attention has been paid to the length of time and effort AV fistula creation can consume in certain higher risk populations. An AV fistula is considered optimal because of its potential for durability, lower risk of infection and reduced need for intervention to ensure patency. However, recently the focus has shifted toward tailoring the most appropriate access for individual patients, based upon their medical care, patient characteristics, life expectancy, preference and other factors.
A systematic, multilevel approach is required for ensuring optimal vascular access for every HD patient since many additional factors likely influence successful AV fistula placement. These are often beyond the capacity of individual practitioners, and include patient motivation for access placement, timeliness of referrals for nephrology and vascular access intervention, and institutional and payer support for pre-ESRD care. The role of coordination of dialysis access placement and maintenance is therefore critical.