Why Surveillance is Important for a Clinic and Its Staff
"The Transonic Flow-QC Hemodialysis Monitor has benefited numerous dialysis-dependent patients by reducing and, in many cases, eliminating the agony of a clotted AV graft or fistula, thereby facilitating correction of access stenoses on an elective basis that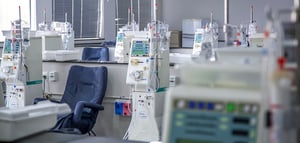 prevents missed dialysis and the need for placing temporary catheters."
Thomas Depner, MD, UC Davis
A well managed hemodialysis clinic aspires to keep all their dialysis chairs filled throughout all the shifts. When a chair is not being used, the clinic loses potential income from a hemodialysis treatment. Therefore, it behooves a clinic to keep close track of their patients in order to avoid unexpected emergencies and to proactively address their patients' problems.
Click to Tweet: Why Surveillance is Important for a Clinic and Its Staff https://ctt.ac/T5QrJ
Surveillance with the Transonic Hemodialysis Monitor, not only assures dialysis adequacy through quantitative measurements of Delivered Blood Flow and Recirculation, but, through trending of Vascular Access Flows, can foreshadow the formation of a stenosis. The clinic staff are therefore able to respond proactively rather than emergently to the patient's condition.
The clinic retains the patient and keeps his or her chair filled. An appointments are not inadvertently missed. Emergencies are averted and the clinic saves money.1
References:
1McCarley PB et al, "Vascular Access Blood Flow Monitoring Reduces Access Morbidity and Costs," Kidney Int 2001; 60: 1164-7. (Transonic Reference # HD11190)
HD03ValueAdded(DL-200-wp)RevA2017USltr