American Physiology Summit – New Technology for New Beginnings
April is always an exciting time at Transonic as we would prepare for our largest Scientific conference of the year, Experimental Biology (EB). After decades and hundreds of thousands of attendees, EB concluded last year with its final conference. With the end of EB, a gap was left and with it, an opportunity to refresh the scientific landscape and reimage what a conference can be. The American Physiology Society understood this and created an exciting new conference this year, the American Physiology Summit, April 20-23 in Long Beach, CA. The Transonic team is thrilled to be a part of this inaugural run of the conference and look forward to sharing some recent innovations related to our EndoGear® telemetry technology during one of the new APS Workshops that we will be hosting April 22 at 12:15PM.
This Workshop will present state of the art telemetric recordings from conscious, freely moving rodents to define novel pressure-flow relationships in both cardiac and renal applications. We will be joined by two leading physiologists, Dr. Aaron Polichnowski and Dr. Christopher West. Dr. Polichnowski will focus on renal blood flow autoregulation, its assessment challenges, and new analytical techniques. Dr. West will discuss the benefits that telemetric solutions offer to the measurement and understanding of cardiovascular physiology in small and large animal models of health and disease. More broadly, both will review the exciting future that telemetric pressure-flow relationships offer to advance our current understanding of fundamental principles within hemodynamic and cardiac research.
This presentation is made possible by Transonic's new Pressure-Flow Telemetry system, EndoGear®. EndoGear® allows for the measurement of vascular blood flow & blood pressure simultaneously and continuously from conscious animals.  With EndoGear®, longitudinal measurement of cardiac output, stroke volume, vascular resistance, renal blood flow and many other indices, are finally possible. We hope that you can join us April 22, 12:15P-1PM (PDT) at the Exploration Stage in the main hall of the APS conference. In the meantime, you can learn more about the talk, here.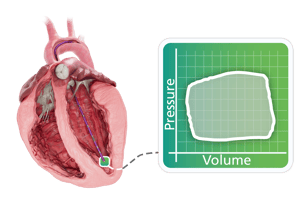 Also at APS will be our new ADV550 Pressure-Volume loop system. With the ADV550, it is finally possible to position your catheter using instantaneous live volume feedback from the left or right ventricle. With live volume feedback, you are always in control of your data, never missing positional opportunities and with it, decreasing the time that PV studies take. You can learn more about the ADV550, here.

Astrid, Danielle, Oliver, Nick, and I look forward to seeing you this year in booth 130 at APS. We hope that you can also join us for our telemetry Workshop on April 22 as well. Safe travels, see you in Long Beach!