What Bioengineers Should Know About Pressure-Volume Loop Technology
Pressure-volume loops provide a range of hemodynamic parameters that are not readily measurable by other methods. These include changes in contractility, elastance, power, energetics and efficiency.
Pressure-volume loops provide quantitative measurements of parameters, not just qualitative
results, which makes them the single most comprehensive measurement of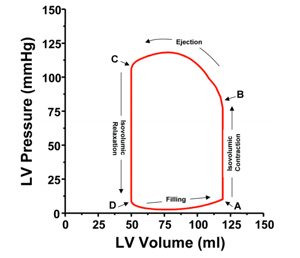 hemodynamics and cardiac function available.
There are three main areas of cardiovascular assessment where pressure-volume loops provide the ideal measurement approach:
1. Measuring the heart's contractile parameter of interest.
2. Providing a comprehensive analysis of cardiac function, such as phenotyping.
3. Informing about a parameter of greatest interest is unknown during drug or genetic studies.
Pressure-volume loops provide values of several parameters and variables of physiologic importance: the maximum or end-diastolic volume (EDV) volume of the cardiac cycle; the minimum end-systolic volume (ESV) ventricular volume at the end of the ejection phase. The difference between EDV and ESV is the stroke volume (SV) or the amount of blood ejected during the cardiac cycle.
Learn more about pressure-volume loop technology, pressure-volume cardiac function measurements for pre-clinical R&D studies and validations in this guide.