Dr. Potus presents webinar on Right Ventricle PV Loops for Studying PAH
On August 25, 2020, our Research Division continued our client-lead webinar series that, much like our blog series, attempts to bring our community a venue where new scientific approaches, technologies and ideas can be shared.

In this webinar, we heard from Dr. Francois Potus, an Associate Professor in the Quebec Heart and Lung Institute at Laval University. Dr. Potus received his PhD in 2017 from Laval University in Quebec City, followed by a postdoctoral appointment at Queen's University in Dr. Stephen Archer's lab. His research investigates the epigenetic origin of right ventricular failure, and pulmonary arterial hypertension, also known as "PAH". His research encompasses the characterization of PAH based on patients cohort, multi-omic characterization of right ventricular failure, genomic characterization of PAH, and generation of the preclinical models of PAH. Beyond increasing his basic knowledge of the etiology of the disease, Dr. Potus' research focuses on uncovering novel biomarkers and therapeutic targets in PAH. Throughout the webinar, Dr. Potus highlighted the important role that ventricular pressure-volume loops play in his research. If you are looking to tips and tricks associated with this challenging approach, have an interest in PV loops or pulmonary hypertension more broadly, we encourage you to watch the webinar in full here.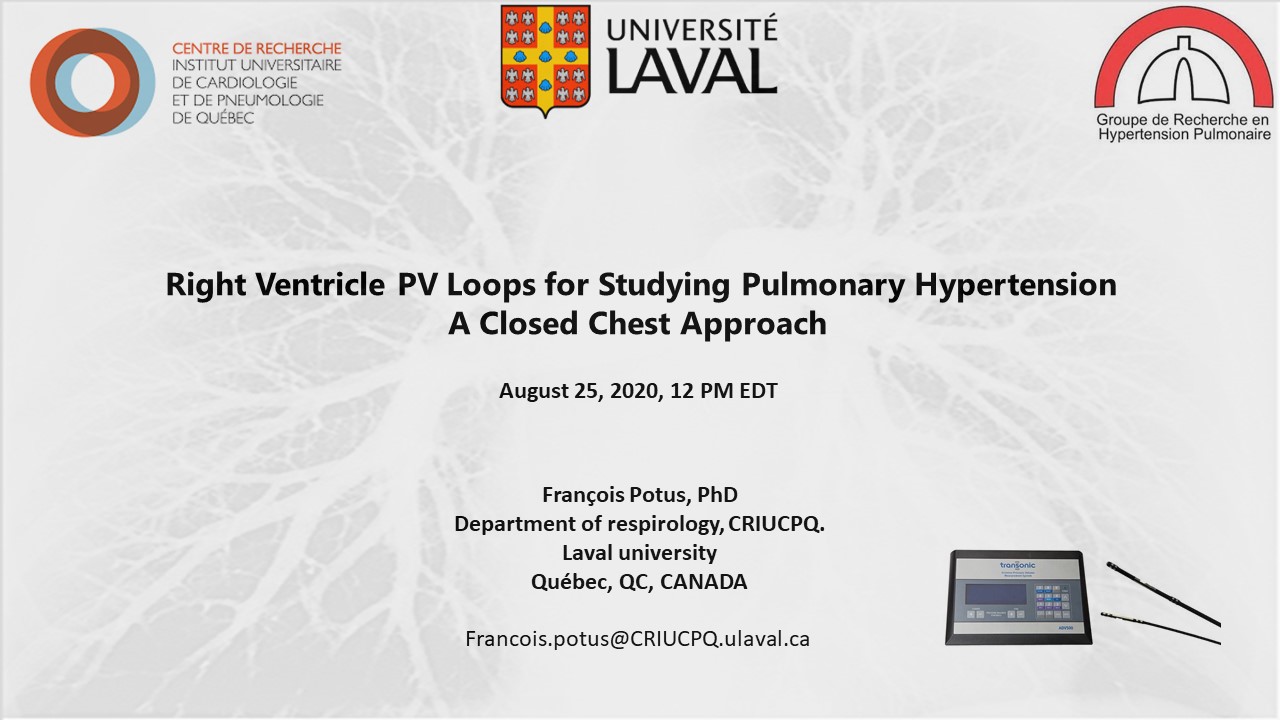 Below is a summary of the event:
From this webinar, Dr. Potus broke his presentation into 2 different areas – data collection methodology and published results. Key findings were:
Methodology:
Deployment of a high-fidelity PV catheter in closed chest rodent models of RV function is both possible and reproducible.

The ability to monitor catheter position is essential for this approach
Scientific findings:
Metabolic/mitochondrial, fibrosis, inflammation, and angiogenesis are the main pathways affected in PAH-RVF.

Impaired expression of a micro RNA named miR-126 contributes to angiogenic defect observed in PAH decompensated RV.

The discovery a novel mutation associated with PAH development in a gene coding for an epigenetic factor named TET2.

As observed in human patients, mice lacking Tet2 also exhibit increased expression of several pro-inflammatory markers and that targeting IL-1b (using an antibody against IL1-b) prevents PAH development in Tet2 mutated mice.
Dr. Potus' lab work focuses on Pulmonary Arterial Hypertension – an increasingly common area of study that sees marked structural and functional changes in the right heart. These changes allow researcher to track the progression of the disease and test novel therapeutics and interventions that attempt to prevent or reverse the process. Ventricular PV loops allow a researcher to track pressure and volume changes in real time in their models, with changes in contractility being directly correlated with PAH progression. A common challenge in this approach is the morphology of right heart as well as the access route through the superior vena cava and many researchers opt for open chest catheterization as a result. Dr. Potus has diligently progressed his surgical technique to allow for a closed chest approach in his models, an important step in monitoring this disease and others that effect the RV. To collect these data trends, the lab utilizes the Scisense Admittance based PV loop system which allows for monitoring of relative catheter position – an essential consideration in this approach.
In our question and answer period, Dr. Potus addressed a host of different inquiries from the live attendees, such as:
What can be expected in terms of catheter longevity in this approach?
His rationale for choosing certain surgical preferences.
What changes can be expected in pressure and volume due to poor catheter position and which signal is more susceptible to position?
What anesthesia he prefers and why it most appropriate for his work.
Is RV dysfunction a simple consequence of increased afterload on the ventricle?
What role does the left ventricle play in PAH.
Analysis considerations for different PV shapes seen in the RV relative to the LV.
Alternative technologies being deployed in concert with PV loops and several others…
We would like to thank Dr. Potus for taking the time to speak with us, present his unique research and help the community better understand the role that PV loops can play in their labs. As we look towards our next webinar on September 29th - Unraveling the Mysteries of Diastolic Function – we hope that you can join us. In this webinar - hosted by Dr. Jeremy Simpson and Leslie Ogilvie from the University of Guelph - we will look at the two different phases of diastole and outline which parameters are best to capture each phase of diastolic function. As well, a discussion will be had around the benefits and pitfalls of recording/interpreting invasive hemodynamic data.
For more information related to our webinar series, to watch past events, register for future events or even to suggest topics for the future, please visit our website.