Flow Measurement Technologies: What Bioengineers Should Know
Transonic pioneered 2 foundational flow measurement technologies. The first was transit time ultrasound flow measurement, created for biomedical use by founder Cor Drost. The technology uses non-invasive ultrasound and measures the actual amount of blood flowing through the vessel, duct or flexible plastic tube directly with high accuracy, without manipulating the conduit in a way that would alter the flow that is being measured.
You can use transit time ultrasound technology to make measurements in in-vitro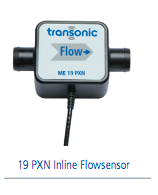 bench-top models and in-vivo animal models.
Dr. Nikolai Krivitski expanded Transonic's technological scope when he developed ultrasound dilution technology. Dr. Krivitski, who was well-versed in classic dilution technology, had an "aha!" insight that existing transit-time ultrasound technology could be married to classic indicator dilution technology to create "ultrasound dilution technology" with enhanced measurement capabilities.
Then Dr. Krivitski had another "aha!" insight: Transonic's transit-time ultrasound technology hardware could measure desired parameters during hemodialysis that could help save the lives of end-stage-renal-disease patients undergoing hemodialysis.
What can Transit-Time Ultrasound Technology and Ultrasound Dilution Technology Measure?
Transit time ultrasound measures:
Liquid flow through a vessel/tube
Ultrafiltration rate
Liquid properties
Zero-flow & low-flow resolution
Total liquid volume
Bubble detection
Ultrasound dilution technology measures:
Vascular access flow/patency
Recirculation
Cardiac output
Central blood volume
Filter volume and clotting
Learn more about additional Transonic measurement technologies, the transit-time flow measurement theory of operation, the five advantages to transit-time flow measurement technology and much more in this guide.