Nothing Beats In-person Training: A Peek into our Rodent Microsurgery Workshop
With spring finally here, the Dutch tulip fields blooming, and travel restrictions lifted, it was perfect timing to get back to hosting Transonic's Microsurgery and Pressure-Volume (PV) Loop Workshop at the René Remie Surgical Skills Centre. After two long years, the entire team was very much looking forward to teaching and demonstrating rodent surgeries in person again.

On the first morning, we kicked off the workshop with lectures on good surgical practices: knot tying, anesthesia, and surgical preparation. The quality of your measurements is always a combination of good surgical set-up, high quality equipment and trained personnel to operate the experiment. We moved on to a live surgical demonstration followed by the first surgical practice session, soon after these were theoretical sessions.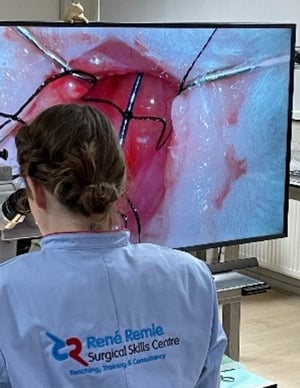 We started day two with a deep dive into Admittance-based PV loop technology. Covering topics including how conductance evolved into Admittance, why Admittance based measurements are more precise and how to use the phase signal during your experiment to optimize catheter positioning. Since "practice makes perfect", most of day two was dedicated to hands-on sessions. Surgeries don't always go as intended and the benefit of attending a workshop is that you will not only take home the knowledge of how to perfectly perform your measurement, but also how to solve challenges that can arise during surgery and data collection. For this reason, our workshops always contain a session dedicated to case studies. This session is an open discussion aimed to train you to troubleshoot whatever situation you may run into during your surgeries and experiments. Here are a few example case study troubleshooting situations:
Can the shape of this loop be explained by poor catheter positioning, or is there a different explanation?
How does blood pressure respond when you do not maintain the body temperature of the animal you are performing surgery on?
What is the expected left ventricle pressure of my species of interest?
We ended day two with a great group diner, sharing some good old stories of what we have run into during our scientific careers.
As we always aim to tailor the content of our workshops to the wishes of our course attendees, we scheduled some time on day three to discuss and interpret previously collected PV loop data. We concluded the workshop with a demonstration on how to perform a ligation of the left anterior descending coronary artery (LAD) as a model to induce a myocardial infarction.
If you believe that your experiments would benefit from attending one of our surgical workshops, we offer several different options throughout the world. Applications covered include pressure data collection, vascular blood flow assessment and of course pressure-volume loops. If you have any questions about our surgical workshops, products, or anything else, don't hesitate to get in touch.