The Road Less Traveled: Alternative Career Paths for Scientists
Transonic has been contributing to the world of life sciences for over 35 years and has been fortunate to be part of some incredible science over the years. One of the services that Transonic is most proud of is the in-house expertise brought to you by our scientists. Looking at our scientists and their career paths, as well as our colleagues, it struck us that the life sciences field has an unparalleled opportunity for career mobility and reinvention. This is a time when people are working from home and also reassessing their trajectories so we profiled one of our applications specialists, Astrid Haegens, as a micro-example of the world of possibility that exists in life science research and to start a dialog with our community.
Astrid Haegens, Ph.D. - Keeping Scientific Curiosity in the Lead throughout Life's Journeys
I have had many adventures in the world of life sciences and am excited by the infinite possibilities for growth that a career in the life sciences offers. Having experienced both the academic side and the industry side, I can attest that this field offers an amazing career path with enormous potential in many directions. From academic studies to biomedical engineering to pharmaceutical studies to industry, the possibilities are endless.
For myself, even back in high school, I knew that the biomedical laboratory would be my happy place and twenty-something years later, the lab still feels like home. While I do not spend all my days in the lab as I used to, I have the honor of using my years of experience there to help other academics to get the parameters they need in their labs for their research, just as was done for me. My journey from the lab to application support for other research scientists began back in university. I thoroughly enjoyed every moment of the 4 years it took to obtain my bachelor's in science and was fortunate to spend the last year of my studies in an amazing asbestosis research lab at the University of Vermont. I was also very fortunate to be supervised by a strong, motivating leader in her research field and to be surrounded by many other inspirational people; academics in various stages of their career, but also application specialists for laboratory equipment, who were specialists in teaching people how to use their equipment.
From there, I felt inspired to conduct my own research, so I jumped straight into my Ph.D. During those four years, I got a better understanding of how biomedical science helps to solve problems in the clinic through translational research. When searching for the cures to illnesses, physiological studies work to unravel, understand and repair processes in living organisms. Often this work starts with animal science studies and I experienced this through collaborations with veterinarians and biotechnical staff. After animal studies, I collaborated with physicians and clinical support staff such as physiotherapists and nutritionists to set up clinical studies. As a post-doc I had the pleasure to be part of a partnership between academia, the nutritional industry and the government. Our industrial partners had similar backgrounds but were looking at science with a commercial point of view. From each of our vantage points, we were all interested to find which nutritional components being investigated would improve the physiological processes that were impaired in their target customers and then how we could enhance the presence of these components in food products to improve these physiological processes in real life. This was for me at the time, a completely new look at life science applications and the collaborations across academia and industry.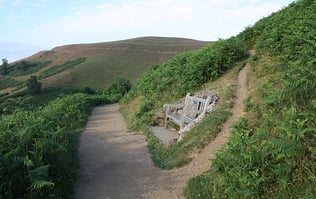 Image attribution: Bob Embleton / Path split by the "Batchelor" seat / CC BY-SA 2.0
During the past eight years, I have worked for Transonic where I began as an application specialist. I collaborated with my former colleagues in academia to design and execute their blood flow and heart function studies, analyze their pressure-volume loop data and troubleshoot where needed. I have found great pleasure in being able to assist with the pure science of the measurements without the worry of having to publish or apply for funding and while still seeing the benefit that these studies bring to the world. Amongst my customers are also PhDs working for pharmaceutical companies who work to safely bring next-generation drugs to patients; being able to supply measurement assistance for their studies is a pleasure. Another of my favorite customer groups are the biomedical engineers working in the medical device industry who are designing better functioning heart pumps or artificial heart valves to improve the lives of those in need. All of them work with Transonic perivascular or tubing flow probes and I enjoy seeing how flow measurement can improve the usefulness of the devices. The best part of my role is that I'm constantly involved in a variety of wonderful projects and can work with and learn from key opinion leaders in their respective scientific fields.
The newest addition to my work activities involves reaching out to our customers via this and future blogs. Our goal as Transonic is to 'Advance Meaningful Measurements'; we strive to support our customers and scientists with relevant measurements and information in the broadest way possible. We envision setting up a dialog with our customers in a more public sphere where questions can be asked, and answers found as a group to benefit the larger community. No matter whether we're part of industry, academia, pharma or biomedical engineering, we each have a critical part to play in advancing science to improve the human experience.
During this massive world shift due to the pandemic, I have heard from many colleagues who are now taking their scientific work home; many also are needing to assess new options for their future. I would love to hear more about your journey in the life sciences, how you are coping with work and scientific study from home and I want to invite you to contact us with anything that you would like to learn more about. Questions on heart function measurements, ejection fraction, ex vivo working heart set-ups, experimental design, data analysis or anything…. as with all life science, the sky's the limit! Let us know what's on your mind and we'll do our best to find answers and to support you, in any way we can.