"Transonic Inside" Engineer Kaitlyn Whyte Makes a Name for Herself in a Male-Dominated Field
Medical devices aren't a usual interest for most 6-year-olds. But for Kaitlyn Whyte, a diagnosis of Type 1 diabetes at age 6 meant the medical equipment she needed to survive became her passion.
"I was really reliant on it as a kid," she said. "And I often saw opportunities where it could be better. It took a while for me to get on the insulin pump because I just really wasn't happy with the features when it first came out. I think there's something to be said for having a patient perspective in the biomed community."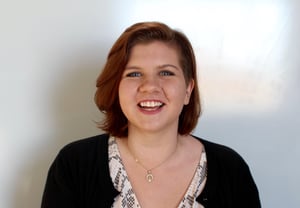 The insulin pump Whyte was told she needed felt too boxy and cumbersome for her, and she thought there had to be a better way to deliver insulin.
"As a kid when you're just pressing a button, it's injecting insulin to you. I felt I could do that with my insulin pen. I didn't really see a need for the pump," Whyte said. "So I got into biomed to join the revolution of technology becoming more data-driven. Before it was like, 'We can do this,' now it's like, 'How can we do this better?'"
Whyte took her passion for data-driven medical technology and devices and studied biomedical engineering at Johns Hopkins University.
"I was drawn to women in my program naturally," she said. "Biomed was actually one of the more even gendered programs. But a lot of those first couple of years when it's those generic engineering classes, it was definitely more male-driven, a lot more male professors. And I remember times being put into groups of all guys and really having to fight for my voice to be heard over them. And I couldn't just say something and be believed. I had to actually do the math and prove it out."
Now, Whyte is making a name for herself in a male-dominated field as a "Transonic Inside" applications engineer.
When she first started with the company, she was tasked with bridging the gap between customers and OEM accounts and engineering. Now, she oversees account management for OEM accounts.
"I'm a very detail-oriented person, and I really like to make sure that every step of the process is being done right and being done with proper input," she said. "I'm dedicated to doing the best I can to deliver great solutions to our customers and help them succeed.
What sets Transonic OEM apart, Whyte says, is the team behind the device.
"The most important thing for someone to know about Transonic OEM is that it is all a team of very dedicated and passionate engineers and experts working behind it. It's also important for people to know we were founded by a very dedicated, passionate engineer and therefore the people that they're hiring are passionate," she said.
As she advances in her career, Whyte has advice for girls or women considering engineering as a career: "You're going to face challenges, but I think the industry is really opening up to different voices. And it can really only get better from here. Reach out to other females or even male advocates in your field who respect your opinion and are willing to help you get heard. And just keep pushing and doing the work. Eventually, your work's going to speak for itself."