Transonic Webinar Series – Dr. Christopher West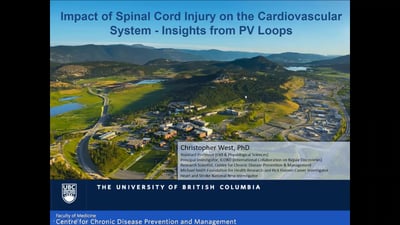 On June 25, 2020, our Research Division launched a new client-lead webinar series that, much like our blog series, attempts to bring our community a venue where new scientific approaches, technologies and ideas can be shared. In this on-going series, we will feature live talks from key opinion leaders in various fields – from hemodynamics and organ preservation to flow dynamics and even outer space. Each webinar allows for direct interaction with our speakers through question and answer periods, as well as post webinar interaction.
Our first webinar featured Dr. Christopher West, an Assistant Professor at the University of British Columbia in the department of Cell and Physiological Sciences. Dr. West is also a member of the International Collaboration on Repair Discoveries (ICORD). His research aims to understand the pathways that control cardio-respiratory and autonomic function after spinal cord injury (SCI), and how to effectively manipulate these variables to improve the function of these systems. His laboratory takes a translational approach to their research by conducting studies in a variety of animal models, as well as individuals and athletes with spinal cord injury. Throughout the webinar, Dr. West highlighted the important role that ventricular pressure-volume loops play in his research. If PV loops, cardiac contractility or the sympathetic nervous system are of interest to you, we encourage you to watch the webinar in full here.
Below is a summary of the event:
From this webinar, Dr. West highlighted 4 key findings:
The heart undergoes a rapid reduction in contractile function post-SCI.

Functional decline of the heart precedes structural changes.

Impaired descending control over the sympathetic preganglionic neuron seems to be the underlying stimulus of findings 1 and 2.

PV loops provide an ideal medium through which to interrogate the functional changes in the heart post-SCI because it enables the ability to separate out the confounding loading conditions that exist.
Dr. West's lab focuses on spinal cord injury, but perhaps not in the way that one would classically think of this type of injury – most would focus on the changes in physical mobility post-SCI. Instead, Dr. West's lab has become interested in the cardiovascular system and how it is impacted after SCI. His research asks a targeted question; what happens if you have a SCI in the upper thoracic or lower cervical spinal cord (55% occur in this region) and what effect does this injury have on arterial and cardiac function? To investigate this, the lab utilizes Scisense Admittance based PV loop system to look at ventricular pressure and volume throughout an entire cardiac cycle and protocol more broadly. During the webinar, Dr. West highlighted several important findings that have been gleaned from this approach:
Why include PV loops data collection practices in this research?
With understanding that contractility is influenced by preload, afterload, myocyte level and hormonal factors, PV loops allow for the study of systolic and diastolic conditions that are both load-dependent and load-independent. This is important in the setting of SCI as all of these 'other' factors that influence contractility are changing following the injury. Therefore, the data set Dr. West's lab extracts from the PV recordings includes classic parameters of contractility such as ejection fraction (EF), while also providing more specific measures of inotropy such as ESPVR. From this, specific questions about how contractility changes in response to various perturbations/stimuli following SCI can be asked and subsequently answered.
What models are

employed

and what information

can be

attained from this approach?
The models employed include rat and porcine cohorts with a SCI at the T2 spinal level that spreads to the T1 level. These models therefore mimic how a clinical cervical SCI presents. From these models, they are seeing a severe reduction in systolic pressures over a very short period (as little as 1-hr). Reduced left ventricle blood volume, dimensions and heart muscle mass subsequently accompany these functional changes and although EF seems to be preserved initially, they are seeing a reduction in contractile function overall. These effects are reflected in dramatic changes in derived pressures 1-day after SCI, with blood volumes being affected in 5-7 days. These changes appear to be driven by functional changes in the heart that in turn inform the structural changes.
What does a day in the lab look like for this type of injury model?
To collect these data, a coordinated approach in the large animal lab is required. Days start at 5:30AM and data collection continues through to 10:00PM. Data collection practices include biventricular pressure, thermodilution, pressure volume loops and an inferior vena cava balloon catheter for load reductions. At 1-hr post SCI, reductions in pressure can be seen with EF remaining essentially normal in these animals. At the 4 hour post-SCI timepoint, they are seeing a large decrease in ESPVR and other indices of contractility.
D

id

exercise improve these issues?
Dr. West's lab has investigated the impact of exercise by using passive hind-limb movements on an automated cycle - where it is thought that vascular return could be improved – and active swimming exercise with forelimbs. In both cases, none of the contractile indexes were changed through these treatments – though passive hind-limb cycling did restore stroke volume. The lack of change in contractility is likely because the sympathetic system remains so highly impacted by this type of injury.
In our question and answer period, Dr. West addressed a host of different inquiries from the live attendees, such as:
What is

a

PV catheter's effect on flow dynamics or valvular function

?

F

undamental pressure-volume loop questions surrounding the number of occlusions needed and how best to analyze

these

type

s

of data

.

What are the

d

iastolic changes present post-SCI

?

What are the

a

nesthesia guidelines and options

that you are following?

W

hat is the

p

otential impact

of your model

on the right ventricle

?

Circadian rhythms and their impact on long term acute protocols

.

Recommended

s

trategies for dealing with breathing artifacts present in PV loop data and several others…
We would like to thank Dr. West and his lab for taking the time to speak with us, present his unique research and help the community better understand the role that PV loops can play in their labs. As we look towards our next webinar on August 25th - Right Ventricle PV Loops for Studying Pulmonary Hypertension – we hope that you can join us. This topic, hosted by Dr. Francois Potus from Dr. Stephen Archer's lab in Kingston, Ontario, will strive to help clarify common questions surrounding this challenging prep in rodent models using both open and closed chest approaches.
For more information related to our webinar series, to watch past events, register for future events or even to suggest topics for the future, please visit our website.
To learn more about Dr. West – including exciting research opportunities in his lab – please visit this website.