Transonic Webinar - Unraveling the Mysteries of Diastolic Function
On September 29, 2020, our Research Division continued our client-lead webinar series that, much like our blog series, attempts to bring our community a venue where new scientific approaches, technologies and ideas can be shared and discussed.
In this webinar, we heard from Dr. Jeremy Simpson and Leslie Ogilvie from the University of Guelph in Ontario, Canada. Dr. Simpson completed his PhD at Queen's University in Kingston, Ontario. In his research he combined the fields of Molecular Cardiology and Respiratory Physiology. He then moved down the road and completed his post-doc with Dr. Peter Backx at the University of Toronto. He started his own lab at the University of Guelph almost 10 years ago where his lab investigates how the heart and respiratory system interact in health and disease. Joining him was Leslie Ogilvie, a PhD candidate whose research aims to gain a better understanding of how our heart relaxes and fills with blood.
Throughout the webinar, Jeremy and Leslie highlighted the important role that invasive measurements of hemodynamics – pressure and pressure-volume loops – can have when investigating lusitropy. If you are looking for tips and tricks associated with measuring invasive hemodynamics or have an interest in diastolic function in general, if you ever wondered why there are 4 different "Tau" measurements or you are interested in respiratory influences on the cardiac system more broadly, we encourage you to watch the webinar in full here.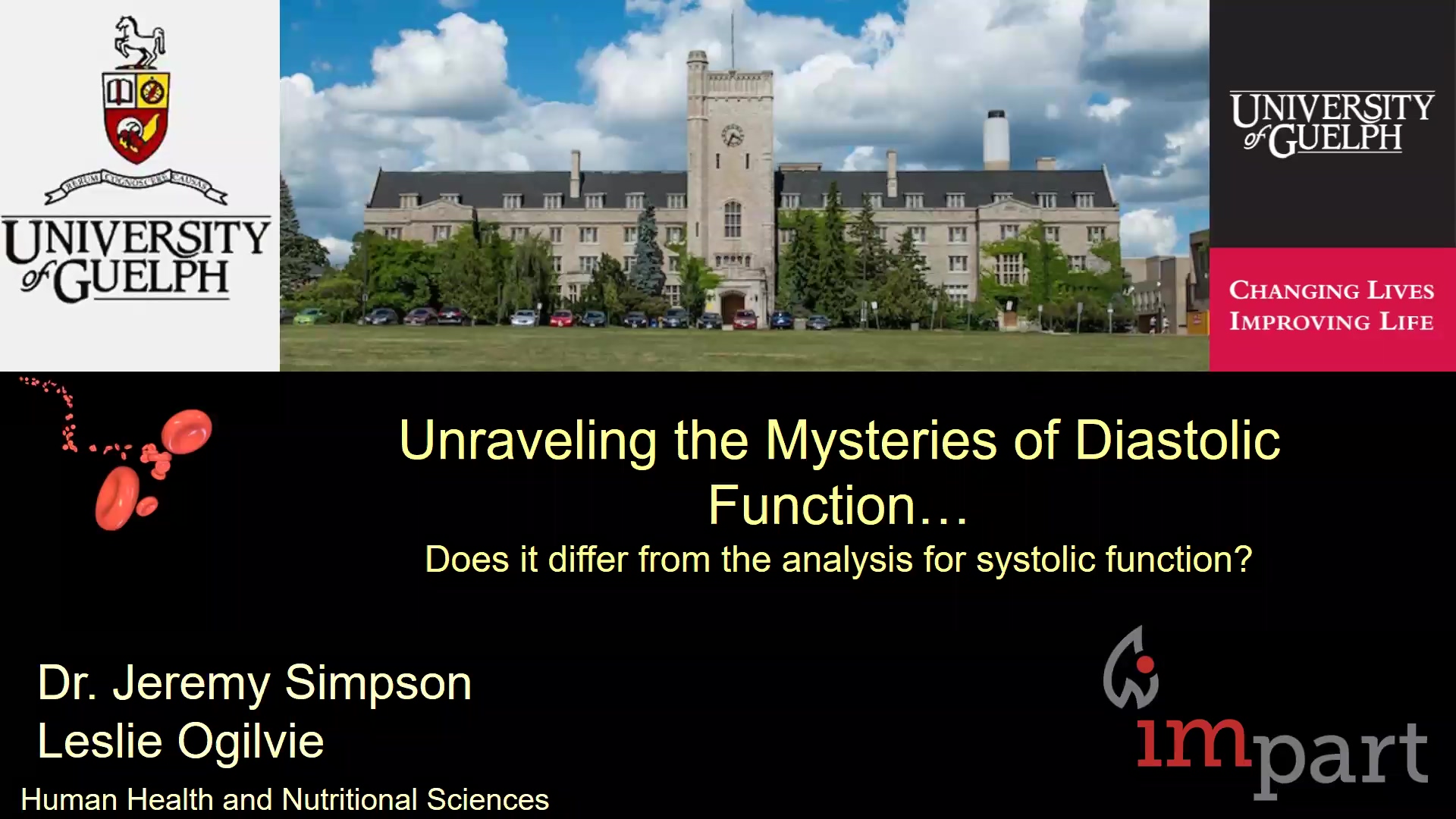 Below is a summary of the event:
Our speakers each presented different topics and prescribed different recommendations.
Leslie
Key Insights:
Diastolic function is composed of two phases: active relaxation & passive filling of the heart.

Diastolic dysfunction occurs in almost all models of Heart Failure and represents a largely unexplored avenue for therapeutic research.

End Diastolic Pressure (EDP) is the most widely used parameter to determine diastolic dysfunction but doesn't capture the active relaxation phase.
Recommendations in the lab:
EDP, dP/dt Min (first derivative of pressure) and TauG/TauL should always be reported to assess both relaxation and filling

TauG and TauL should be the preferred model for assessing in-vivo relaxation.
Jeremy
Key Insights
As anesthetic levels increase, EDP during expiration increases, while EDP during inspiration decreases

As body temperature decreases, EDP increases

Diastolic parameters are more sensitive to loss of signal due to undersampling
Recommendations in the lab:
A plane level of anesthetic and stable body temperature improves data integrity for diastolic (and systolic) function

All pressure measurements in rodents should be sampled at 2,000 Hz
The Simpson lab has been working for years to better understand diastolic dysfunction, which has no effective therapeutic treatments at the moment, yet accounts for approximately one-half of all heart failure patients. As they looked further into the problems, it became clear that a better understanding of both the active relaxation and passive filling phases would be important. This would be best answered by a deep dive into the utility (and limitations) of various Tau measurements, the respiratory influence uniquely on diastole, and even the effect of sampling rates on their data. To collect these data trends, the lab utilizes the Scisense SP200 Pressure System and Scisense Admittance based PV loop system which allows for high fidelity measurements of ventricular pressure and more advanced parameters such as End Diastolic Pressure Volume Relations (EDPVR), respectively.
In our question and answer period, Jeremy and Leslie addressed a host of different inquiries from the live attendees, such as:
The engine driving the active and passive phases of diastole.

Why systolic function has been the primary focus of research to date.

What effect blood volume has on diastolic function.

What effect anesthesia has on their data – inhalants versus injectables.

Is breathing "artifact" really a problem to be solved? What role does ventilation play?

What are optimal sampling rates for looking at cardiac function?

Echo versus invasive measurements.

Clinical relevance of their research and next steps in their lab…
We would like to thank Dr. Jeremy Simpson and Leslie Ogilvie for taking the time to speak with us, present their unique research and help the community better understand the role that pressure, and pressure-volume loop measurement play in their lab. To connect with Jeremy and Leslie, or to learn more about their research, visit their website. As we look to the future, we will move into other topics such as blood flow measurement in rodents and large animals, tubing flow measurement for organ preservation, zero-G influences on fluid dynamics and much more. We look forward to connecting with you at our next event.
For more information related to our webinar series, to watch past events, register for future events, or even to suggest topics of discussion, please visit our website.