ELSA Monitor Optimizes ECMO Delivery in Critically Ill
Extracorporeal membrane oxygenation (ECMO) remains a last ditch therapy to treat neonatal, pediatric and adult patients suffering from severe respiratory syndrome and/or cardiac failure after they have not responded to other medical treatments.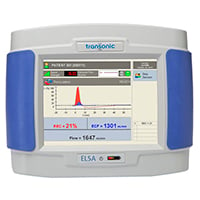 As ECMO has developed over the past 50 years, Transonic flow measurements have been instrumental in its development. Early on, Transonic developed tubing sensors that could clip on extracorporeal tubing and measure the volume flow inside the tubing without compromising the sterility of the blood. Now Transonic's Extracorporeal Life Support Assurance (ELSA) Monitor not only measures the delivered flow through the circuit to identify flow-limiting causes, but it also measures recirculation to help guide the patient's condition and cannula positioning, and oxygenator blood volumes to track clotting volumes in the circuit and avert catastrophic or unnecessary component change-outs.
"When critically ill patients' lives rest on accurate assessments of their conditions and their individual responses to treatment, the new Transonic bedside ELSA ICU Monitor provides intensivists with rapid quantitative data throughout the course of life support. This timely data assists the clinician in guiding interventions to minimize recirculation and fully optimize the oxygenation therapy." Clements D et al, J Extra Corpor Technol 2008 Sep;40(3):184-7.
The ELSA Monitor marries two time-tested gold standard technologies to deliver its measurements. When ELSA's Flow/Dilution Sensors are clipped onto the ECMO lines, Transonic's transit-time ultrasound technology measures two channels directly. Then, with an injection of a small volume of saline, the ELSA Monitor uses indicator dilution technology to measure the Percentage of Recirculation that is occurring within the circuit and the Oxygenator Blood Volume which can be used to identify the degree of clot formation in the oxygenator.For more information about the ELSA Monitor, click here.