ECMO Shows Promise in Saving COVID-19 Patients' Lives
Two previously healthy men, Dr. Ryan Padgett, 44, a Seattle ER doctor, and Enes Dedic, 53 of Phoenix, AZ found themselves suddenly battling life-threatening COVID-19. Kept alive on ventilators, their health continued to decline. In last-ditch attempts to save their lives, their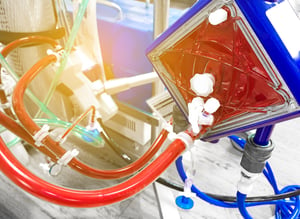 respective doctors decided to take an extraordinary measure and place them on extracorporeal membrane oxygenation (ECMO).
ECMO is a therapy that has been used over the last 40 years, primarily to assist neonatal patients with underdeveloped lungs with their breathing. During the 2009 H1N1pandemic, its use on adult patients increased when mechanical ventilation didn't seem to be working. During ECMO, a patients' blood is removed from the body, an artificial lung (oxygenator) infuses oxygen into the starved red blood cells, and the re-oxygenated blood is pumped directly back into the patient's blood stream. ECMO works similarly to heart and lung bypass machines where the machine mechanically pumps blood and air for the patient while they are undergoing open heart-lung surgery.
Now ventilators are being used in hospitals across the globe to treat critically ill COVID-19 patients, but their statistics for success are disturbing. In New York City, 80 percent of ventilated patients are dying. It's been reported that even those who aren't struggling to breathe and don't yet show signs of oxygen deprivation have unusually low levels of oxygen in their blood. Putting these patients on ventilators for extended periods may continue to damage their already fragile lungs.
However, in the case of Dr. Padgett and Enes Dedic, the decision of their doctors to place them on ECMO might have saved the day. It took Dedic 11 days, being treated at Phoenix, Arizona's John C Lincoln Medical Center, to awake from his coma. In Dr. Padgett's case, even ECMO didn't seem at first to be enough to stop COVID-19. His physicians also gave him Acterma, a rheumatoid arthritis and cancer drug that suppresses the immune system. They hoped that the drug would calm the over-reaction that Dr. Padgett's own body was having to the virus. Fortunately, he too recovered within days.
The new ELSA Monitor by Transonic provides critical data to help fine-tune ECMO therapy which allows clinicians to improve their patient's outcomes. The ELSA Monitor tells the exact amount of blood flow that is being delivered to the patient and how much is being recirculated. Moreover, it can quantify clotting in the oxygenator. Armed with this crucial information, staff can then optimize VV ECMO therapy to save patients.
1Drawn from and article published in the Daily Mail: "Experimental coronavirus treatment that removes blood, pumps it full of oxygen and returns it to the body 'saves' two US patients who were on ventilators." By Natalie Rahhal, Published April 14, 2020.