ECMO vs. Ventilation for COVID-19 Patients
COVID-19 can quickly cause severe pneumonia or acute respiratory distress syndrome (ARDS). This can lead to respiratory failure, requiring intubation and mechanical ventilation.
The use of ECMO and mechanical ventilation have been shown to be an effective treatment for patients experiencing either ARDS or severe respiratory failure due to pneumonia from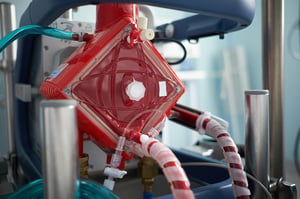 COVID-19.
It's important to note that there are some cases where mechanical ventilation fails or if it doesn't fail can leave the patient with long term consequences
Mechanical ventilation can cause ventilator-induced lung injury (VILI). VILI can cause surfactant dysfunction leading to air leaks and mechanical ventilation can trigger an array of pro anti-inflammatory mediators, according to Martin C. J. Kneyber, et al.

In our latest piece, we explore the use of ventilation vs. ECMO in COVID-19 patients, what causes lung injury and, how hospitals have used ECMO when mechanical ventilation has failed.