How to Create a Successful Modified ECMO Staffing Model
The use of ECMO is steadily increasing in the United States. In fact, according to ELSO, hospitals offering ECMO increased to 264 in 2019; up from 108 in 2008. Add to that the surprise of the COVID-19 pandemic, the importance of establishing ECMO centers and programs are more important than ever for hospitals around the globe.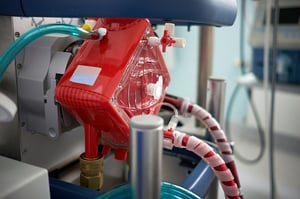 But despite the increase in ECMO use, there's a problem — a lack of perfusionists. The primary role of the perfusionist is to operate the cardio-pulmonary bypass equipment in the operating room to support patients who require open-heart surgery. Their expertise in this area also qualifies them to take care of ECMO patients in the intensive care unit.
A modified ECMO staffing model can be part of the solution for many facilities. This model usually consists of a team made up of registered nurses, respiratory therapists and perfusionists, and it can allow your facility to provide ECMO to critical patients while keeping perfusionists free to be in the OR when needed.
See how your facility can implement a modified ECMO staffing model, how it can save your facility money and real-life success stories from other facilities, in our latest guide.