Intubating the COVID-19 Patient
The severity of respiratory failure varies for patients suffering from the coronavirus. However, certain groups of patients are requiring the most advanced respiratory support, mechanical ventilation. Mechanical ventilation requires an endotracheal (ET) tube to be inserted into the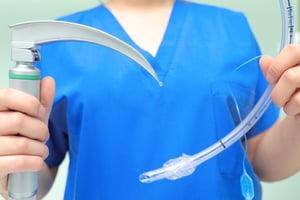 trachea to provide support from a ventilator and assist the patients breathing. This procedure is referred to as intubation and is performed by a physician or provider in a highly skilled area such as the emergency room, intensive care unit and operating room.
Intubation requires several critical care team members including physicians, nurses and respiratory therapist. These team members are on high alert as exposure to infectious diseases is high due to the aerosol that is generated during the procedure – increasing the number of infected droplets.
For the COVID-19 patient group, medical team members need to manage intubations with more precaution.
It is important to identify early warning signs of a patient's need for mechanical ventilation. The patient should be placed into an airborne precaution room, if available, and the necessary equipment and medications should be prepared as needed. As much preparation that can be completed ahead of time is preferred to keep exposure time to a minimum. This includes, ventilator set-up, capnography monitoring, suction access, difficult airway considerations and hemodynamic evaluation. Respiratory therapists should prepare to use a HEPA filter on all endotracheal tubes and bag-mask devices, as well as place a filter in-line with the ventilator circuit to prevent droplet exposure.
Hospitals should limit the number of team members who are present inside the patient's room during intubation. It is suggested that the most experienced team member should perform the intubation with two assistants – a respiratory therapist managing the ventilator and another team member assisting the patient. Other medical personnel should be visible through closed doors, to support in the event of an emergency, and limit their exposure until truly necessary.