Meet Sierra Coyle: Transonic's Clinical Application Specialist
Sierra Coyle, MS, RRT-NPS, originally wanted to be a nurse. As a high school senior, she participated in a program that allowed her to rotate through various specialties within the hospital, and then nearing her high school graduation, she applied to various nursing schools.
And then she changed her mind.
"I really liked focusing on one area of the body and becoming a specialist in that area," she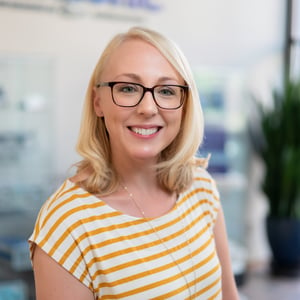 explained. "Luckily, several nursing schools also had respiratory therapy programs, so the switch wasn't too bad."
Sierra graduated with a bachelor's degree in respiratory therapy from York College and has been a practicing respiratory therapist for 11 years.
Before joining the Transonic team, she was a respiratory therapist/ECMO specialist at Boston Children's Hospital — the #1 Children's Hospital in the world for the past 6 years, ranking #1 in more specialties than any other children's hospital. It was at Boston Children's that Sierra first used a Transonic monitor to assist her on ECMO cases to measure flows. And when her family moved from Boston to Syracuse, she took the opportunity to join Transonic.
"I had just completed my master's degree in healthcare administration, so I thought maybe it would be a good opportunity to look for something outside of the clinical setting," she said.
What stood out to Sierra about Transonic was the company's passion for its work.
"Everyone from Cor [the CEO] down just really wants to improve patient care and improve the workflow. There's a big goal there to make a difference. And they really want to do it right," she said.
At Transonic, Sierra works as an application specialist for the ELSA monitor and other ECMO-related devices. She wants customers and potential customers to know that she has experienced a lot in her time as a respiratory therapist.
"I have been in the trenches in the sense where if they have concerns or issues with something I could definitely understand it from a personal experience standpoint. I think it is helpful knowing that I can really bring a unique perspective," she shared.