Transonic Upstate Medical Collaborators Develop ECMO Specialist Certification Process
For more than 15 years Transonic has collaborated with Syracuse Upstate Medical professors and certified clinical perfusionists Edward M. Darling, MS, CCP, and Bruce E. Searles, MS, CCP, who have joined in co-research investigations and also brought their perfusion students annually to Transonic for a hands-on tubing flow capabilities workshop with Transonic's product managers. Upstate's Clinical Perfusion Program is one of only 17 perfusion programs in the United States. Their ten graduates each year join the ranks of the approximate total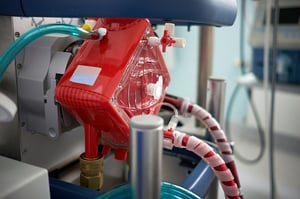 250 perfusionists who graduate each year, adding to the 5,000 perfusionists throughout the United States. However, perfusionist demand now exceeds supply, particularly now as the COVID-19 pandemic rages and many COVID-19 patients are becoming critically ill.
Perfusionists generally operate heart lung bypass machines during open heart surgery and life support equipment in the ICU, including extracorporeal membrane oxygenation (ECMO) support. Now they and other health professionals such as nurses, doctors and respiratory therapists will have an opportunity to become certified as ECMO specialists by passing the new 100-question ECMO certification exam.
The exam is the brainchild of perfusionist Jeffrey Riley, MHPE, CCP Emeritus, LP, research associate professor in the department of cardiovascular perfusion, who collaborated with 19 ECMO specialists from across the country and with the American Society of Extracorporeal Technology to develop the first certification exam for administering ECMO. Members of Riley's team included Ed Darling and Bruce Searles who documented the exam's creation process which is now published in the The Journal of ExtraCorporeal Technology.1 The purpose of the certification process is to standardize training for all who administer ECMO. The firwst exam was offered in the spring of 2020. ECMO certification requires re-certification every two years.
References:
1.Riley JB, Lucas MT, Samolyk KA, et al. Development of the Adult ECMO Specialist Certification Examination. J Extra Corpor Technol. 2020;52(2):96-102. doi:10.1182/ject-2000012
Kulkus E, "Upstate professor leads team to develop, launch first ECMO Specialist Certification exam," July 23, 2020 https://www.upstate.edu/news/articles/2020/2020-07-23-ecmoexam.php