8 Reasons to Perform Vascular Access Surveillance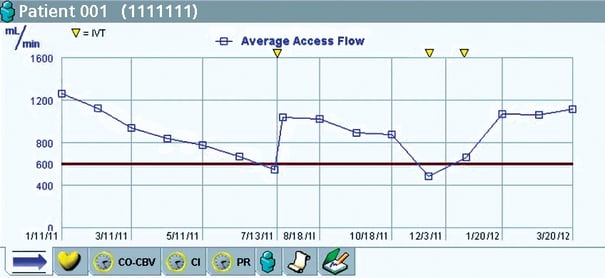 Transonic 's gold standard Hemodialysis Monitor is used to trend vascular access flow to assess vascular access patency. Unlike other technologies that can only identify outflow stenoses in AV accesses, HD03 Monitor surveillance can detect a stenosis wherever it occurs within the vascular access circuit: inflow, outflow or between the needles in both fistulas or grafts.
Dr. Lawrence Spergel, FACS, founder and clinical director of the Fistula First Breakthrough Initiative, calls Transonic Hemodialysis surveillance the corner stone in his vascular access management program because it:
Reveals actual function in AV grafts and fistulas in order to identify failing accesses and avert underdialysis and/or thrombosis;
Indicates effectiveness of interventions (post-intervention surveillance);
Excludes access dysfunction quickly as cause of underdialysis;
Identifies a mid-access obstruction that would result in 0% recirculation;
Identifies high-flow versus low flow accesses to select ideal treatment plan for correction (flow-restricting versus re-vascularization procedure);
Permits access surveillance to be performed by the clinic's staff who then can alert nephrologist to possible onset of access dysfunction & referral for early intervention;
Implements KDOQI Guidelines;
Implements Best Practices for patient care with gold standard reference method.